Best Custom Picture Drawstring Bag – Personalize Your School Bag with Pictures 14 By 16
₨350.00
Drawstring Bag And School bag
A "Customize Drawstring Bag" is a special type of bag that you can personalize and make uniquely your own. It's designed with a simple but clever closure system that allows you to easily open and close the bag by pulling on two strings or cords. These cords also serve as shoulder straps, so you can wear the bag like a backpack.
Description
Customize Bag in Perfect Prints
What makes this bag extra special is that you have the power to customize it according to your preferences and style. You can choose the colors, patterns, and even add your name or favorite designs to make it truly one-of-a-kind. It's like having your own mini canvas to create something that reflects your personality and interests.
Customize drawstring bags are versatile and practical. They are great for carrying small items, like your gym clothes, sports gear, books, or snacks. They are also popular as giveaway items or promotional gifts for events, as businesses can print their logos or messages on them.
Whether you want a bag that matches your favorite colors, shows off your artistic skills, or represents your team or company, a customize bag is a fun and functional accessory that you can take with you wherever you go. So, get creative and design your very own School bag today!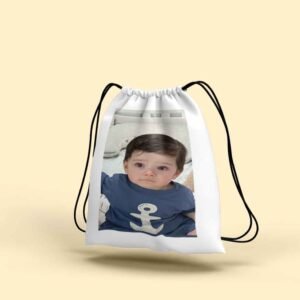 Additional information
| | |
| --- | --- |
| Weight | 0.16 g |
| Dimensions | 0.16 × 2.2 × 6 cm |